7/18 Virtual Reading: Nikki Allen, Jason Baldinger, Victor Clevenger, John Dorsey, & Karen Lillis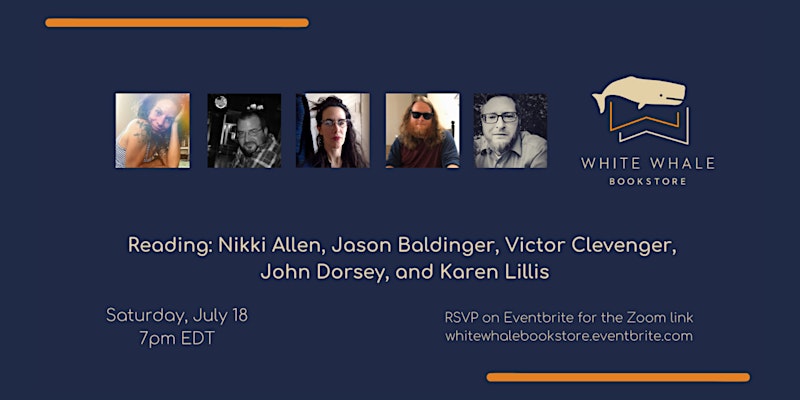 7 PM TONIGHT, White Whale Bookstore says,
Join us for a reading featuring Nikki Allen, Jason Baldinger, Victor Clevenger, John Dorsey, and Karen Lillis!

Check out our curated lists and picks on our main Bookshop affiliate page or use the search bar in the upper center-right to look for any book. (Using the book's ISBN usually works best.) We also have a number of books available ready-to-ship from our store in Pittsburgh.

Please register for this event by snagging a ticket on Eventbrite! There are both free tickets and pay-what-you-can tickets available. Registration will end at 6:30pm EDT on 7/18.

This event will be hosted on Zoom. You'll receive the link to the Zoom meeting the day of the event via email. Free registration/ticket sales will end at 6:30pm EDT on 7/18. Please email events@whitewhalebookstore.com if you miss this cut-off and need a ticket. For questions, check out our FAQ for events here.

About the authors:

Nikki Allen is a lover and a writer. She believes in strong coffee, revolution, the hard knocks and the sweetness. Find more of her writing at honeydunce.com.

Jason Baldinger is a poet from Pittsburgh, Pennsylvaninia. A former Writer in Residence at Osage Arts Community, he is co-founder of The Bridge Series. He has multiple books available including and Everyone's Alone Tonight with James Benger (Kung Fu Treachery Press) the chapbook Blind Into Leaving (Analog Submission Press) as well as the forthcoming Afterlife is a Hangover (Stubborn Mule Press). His work has been published widely in print journals and online. You can listen to him read his work on Bandcamp and on lps by the bands Theremonster and The Gotobeds.

Victor Clevenger spends his days in a Madhouse and his nights writing poetry in a small town northeast of Kansas City, MO. Selected pieces of his work have appeared in print magazines and journals around the world and have been nominated for the Best of the Net Anthology and the Pushcart Prize. He is the author of several collections of poetry including Sandpaper Lovin' (Crisis Chronicles Press, 2017), A Finger in the Hornets' Nest (Red Flag Poetry, 2018), and Corned Beef Hash By Candlelight (Luchador Press, 2019). Together with American poet John Dorsey, they run River Dog.

John Dorsey grew up in Greensburg, Pennsylvania and lived for several years in Toledo, Ohio. He is the author of several collections of poetry, including Teaching the Dead to Sing: The Outlaw's Prayer (Rose of Sharon Press, 2006), Sodomy is a City in New Jersey (American Mettle Books, 2010), Tombstone Factory, (Epic Rites Press, 2013), Appalachian Frankenstein (GTK Press, 2015) Being the Fire (Tangerine Press, 2016) and Shoot the Messenger (Red Flag Press, 2017) and Your Daughter's Country (Blue Horse Press, 2019). His work has been nominated for the Pushcart Prize, Best of the Net, and the Stanley Hanks Memorial Poetry Prize.He was the winner of the 2019 Terri Award given out at the Poetry Rendezvous. He may be reached at archerevans@yahoo.com.

Karen Lillis is a bookseller and a writer of fiction, memoir, and poetry. She is the author of four novellas, including Watch the Doors As They Close (Spuyten Duyvil). Her writing has appeared in The Brooklyn Rail, Evergreen Review, Gasconade Review, LA Cultural Weekly, Lit Hub, Local Knowledge, Occupy Wall Street Poetry Anthology, and Volume 1 Brooklyn, among others. She has been a writer in residence at Shakespeare and Company in Paris, an art reviewer at The Austin Chronicle, a regular contributor to the anti-war/poetry newspaper New York Nights after 2001, and once wrote a short story on the side of a freight train. Her books earned her a 2014 Acker Award for Avant Garde Excellence in Fiction.