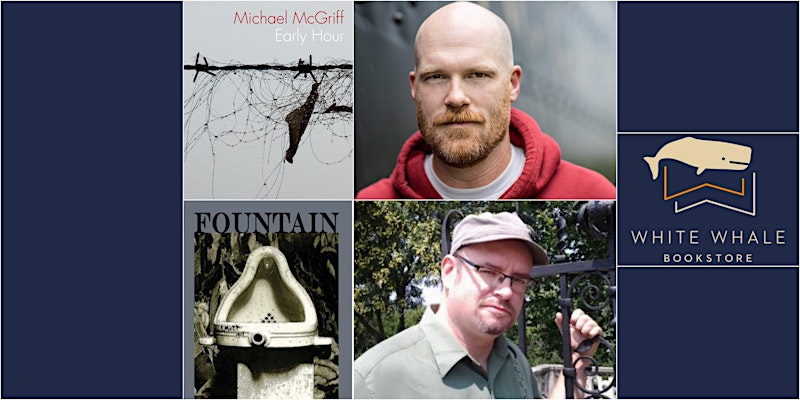 7 PM EASTERN TONIGHT on a rectangle…
Excited to host Michael McGriff and to welcome back Robert Walicki ("back"in the figurative sense, of course, as this event's online) for an evening of poetry. Head to our Bookshop site's list titled "Recent and Upcoming Events (Pre-order!)" to order one of Bob's books and several of Michael's. You can also check out other curated lists and picks on our main site page, or use the search bar in the upper center-right to look for any book. (Using the book's ISBN usually works best.)

This event will be hosted on Zoom. You'll receive the link to the Zoom meeting the day of the event via email. Free registration/ticket sales will end at 6:30pm EDT on 5/8. Please email events@whitewhalebookstore.com if you miss this cut-off and need a ticket.

Robert Walicki's work has appeared in and is forthcoming in a number of publications including Chiron Review, The City Paper, Fourth River, Signal Mountain Review, Red River Review, and others. A Pushcart and a Best of The Net nominee, Robert currently has two chapbooks published: A Room Full of Trees (Red Bird Chapbooks, 2014) and The Almost Sound of Snow Falling (Night Ballet Press, 2015). His first full length collection of poems, Black Angels, is currently available from Six Gallery Press, and his most recent collection, Fountain, is now available at Main Street Rag Press.

Michael McGriff is the author of several books, most recently the poetry collection Home Burial (Copper Canyon Press, 2017) and the short story collection Our Secret Life in the Movies (A Strange Object, 2014), which was an NPR Best Book of 2014. His works has appeared in The New York Times, Poetry London, American Poetry Review, and on PBS NewsHour and NPR's Weekend Edition Sunday. He lives in northern Idaho.