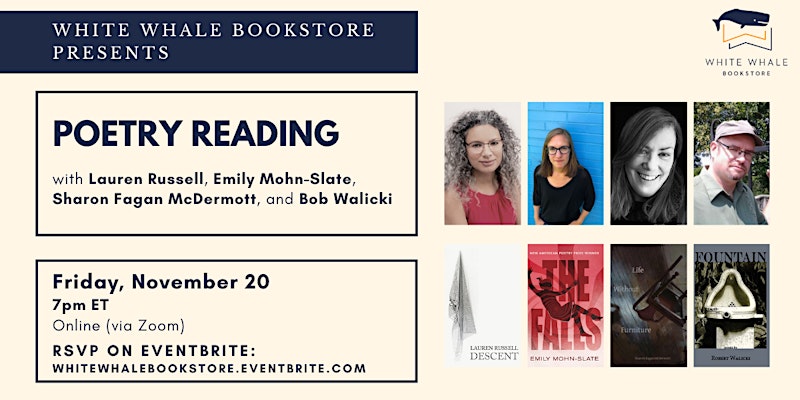 7 PM FRIDAY, NOVEMBER 20…
Please register for this event by snagging a ticket on Eventbrite! There are both free tickets and pay-what-you-can tickets available. Registration will end at 6:30pm ET on 11/20.

Tune in for a poetry reading with local (or formerly local but still local in our hearts) poets Lauren Russell, Emily Mohn-Slate, Sharon Fagan McDermott, and Bob Walicki!

Copies of Emily's book The Falls are available on our main website! Check out our ready-to-ship website, which has a wide selection of recommended and best-selling books, store merch, book subscription boxes, and more. You can request specific books you don't see on the site through this form, too. All orders ship from our store in Pittsburgh.

Other books by these authors are available on our Bookshop.org list for recent and upcoming events. You can also check out our curated lists and picks on our main Bookshop.org affiliate page, or use the search bar in the upper center-right to look for any book. (Using the book's ISBN usually works best.)

Lauren Russell's first full-length book, What's Hanging on the Hush, came out from Ahsahta Press in 2017. Her second book, Descent, is a winner of the 2019 Tarpaulin Sky Book Awards and came out from Tarpaulin Sky Press in June, 2020.

Emily Mohn-Slate is the author of The Falls, winner of the 2019 New American Poetry Prize (New American Press, 2020) and Feed, winner of the 2018 Keystone Chapbook Prize (Seven Kitchens Press).

Sharon Fagan McDermott is a poet, musician, and a teacher of literature at a private school in Pittsburgh, PA. Her most recent poetry collection, Life Without Furniture, was published by Jacar Press in 2018.

Robert Walicki currently has two chapbooks published: A Room Full of Trees (Red Bird Chapbooks, 2014) and The Almost Sound of Snow Falling (Night Ballet Press, 2015. His first full length collection of poems, Black Angels, (Six Gallery Press, 2019).