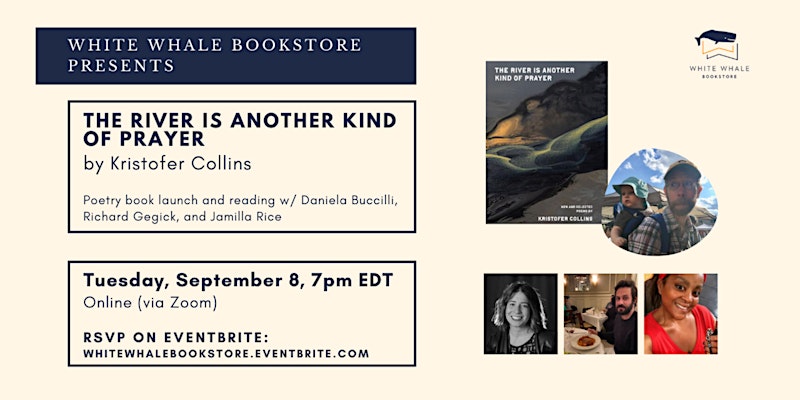 7 PM Tuesday, Sept. 8, on your rectangle…
Please register for this event by snagging a ticket on Eventbrite! There are both free tickets and pay-what-you-can tickets available. Registration will end at 6:30pm EDT on 9/8.

Rescheduled from March: We're super excited to be helping local poet Kristofer Collins launch his latest collection, The River Is Another Kind of Prayer: New & Selected Poems! He'll be reading alongside Daniela Buccilli, Richard Gegick, and Jamilla Rice.

Check out our Bookshop site's list titled "Recent and Upcoming Events (Pre-order!)" to order Kristofer's book. And you can check out other curated lists and picks on our main Bookshop affiliate page, or use the search bar in the upper center-right to look for any book. (Using the book's ISBN usually works best.) We've also got a number of books available ready-to-ship from our store in Pittsburgh.

About the authors:

Kristofer Collins is the publisher of Low Ghost Press and the books editor at Pittsburgh Magazine. He is the co-host of the Hemingway's Summer Poetry Series. He lives in Pittsburgh, PA with his wife Dr. Anna Johnson and their son Cassidy.

Daniela Buccilli's poetry chapbook is What it Takes to Carry (Main Street Rag). Her poems can be found in Coal River Review, Paterson Literary Review, Cimarron Review, Cider Press Review, and Italian Americana. She holds degrees in teaching and writing from Penn State, University of Pittsburgh, and Carlow University. She has co-edited an upcoming anthology Show Us Your Papers. She teaches high school.

Richard Gegick is from Trafford, PA. He is the author of the poetry collection, Greasy Handshakes, available from WPA Press. He lives in Pittsburgh where he writes and waits tables for a living.

Jamilla Rice dreams of when she can own her days and write. Until then, she squeezes out moments during her time as an athlete, educator, aunt, book nerd, baker, and British detective drama junkie. Her work has been published in previous volumes of Voices from the Attic and Pittsburgh Poetry Review, among other anthologies and periodicals. You may have heard her read at various events, on WESA's Prosody, or at that one open mic in Toronto. Her work includes poetry, short fiction, flash nonfiction and combinations of all of the above and more. Topics generally explore the intersection of the personal and political; past as present and future; the beauty within the mundane and pain; the science, math, and absurdity of human behavior; and the undying insistence of marginalized peoples to thrive.